Post by webhead817 on Oct 3, 2007 6:31:42 GMT -5
Who:
Everyone is invited to...
What:
The biggest Attacktix event of 2008...
When:
Coming this Summer...
Where:
To Toledo, Ohio...
Why:
To the play the game we all love.
July 12, 10 am - 8 pm
Halls A and B at the
Courtyard by Marriott
Toledo-Holland, Ohio
ADMISSION:
Admission for TixCon this year will be $8 for players 13 and up, and $5 for players 12 and under. Family members and friends that are not playing are welcome to attend at no charge.
Each player will receive a gift bag (as supplies last) and will also be eligible for door prizes throughout the day.
EVENTS: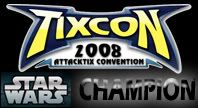 Star Wars 100 Point Tournament
Transformers 100 Point Tournament
Marvel 100 Point Tournament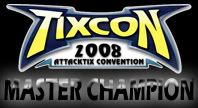 200 Master Championship
Customization Contest
Sportsmanship Award
Side events (12 and under, launchers only, etc.)
GENERAL RULES:
Unless otherwise noted, the following team building rules will be in effect for every event.


Banned: Megas. No Megas may be in your squad or back-ups.

Restricted: Tournament figures. You may only have one Tournament figure on your squad or in your back-ups.

Restricted: The following set of figures are restricted to one of each (squad and back-ups): Star Wars Gold Series (including KAM), Star Wars VS. Transformers (including Gold Optimus), and the Spider-Man III Tournament Set (including Vanquish Venom).

Limited: All other figures are limited to five of each.

Back-Ups are always limited to one half the point total of the squad limit.

PRIZES:
This year the prizes for the above events will be in the form of Trophy Battle Cases as you can see here...
Additional prizes will be revealed as they become available...
LOCATION DETAILS:
TixCon will be hosted again this year at the Courtyard by Marriott in Toledo (Holland), Ohio.
Courtyard by Marriott
Toledo- Holland
1435 East Mall Drive
Holland, OH 43528
Tel: (419) 866-1001
In addition to the Courtyard itself, there are two other hotels within walking distance, The Quality Inn Airport and The Econo Lodge Airport. Check this
link
for details. There are several restaurants (fast food and sit down) in the same complex, as well as plenty of shopping (Wal-Mart, Target, etc.) if you need to pick something up on your trip.
ROLL CALL:
Defender of New Paradron (6)
superflytnt
imvader3 and crew
greyelephant (3)
Cona Chris
Radar
grievous and crew
Malform (and crew?)
tixman1017 (2)
DavidSkywalker and crew